The OnePlus X as well as the Motorola Moto X Play are two extremely popular phones in the mid range sector. Whenever a person has to buy a phone within Rs 20,000 ( USD 300 Approx ) both of these phones come into consideration.
So today we will be looking at the specs of both the phones and see which phone is a better buy for you.
Design and Display
Talking about the OnePlus X first, it has a very elegant design with a glossy back panel with a metal frame, making it look very suprime. On the other hand, the Moto X Play has an entirely different finish. It is sturdy and made of textured rubberised curvy rear panel, metallic finish plastic bezel, which gives a better grip but loses on a fresh styling perspective.
The difference of the finishes of both the phone will only make a buyer want to choose a particular finish, right? But well, finish is not everything. Let us look at more of the display.
Pic: Android Authority
The OnePlus X comes with a full HD 5 inch AMOLED display with 441 pixels per inch. The Moto X Play also comes with the same pixel density but has a 5.5 inch LCD display. The devices also have quite some difference in their weights. The OnePlus X weighs around 138g whereas the Moto X Play weighs 169g.
Camera
The cameras of mobiles have changed considerably in the last few years. The megapixel's of camera which were 2MP a few years back are now becoming 2 Dozen MP now.
As i have given you a little hint, the Moto X Play comes with a 21 Megapixel rear facing camera with f/2.0 and a 5 megapixel front facing camera.The device also has a dual LED Flash to take brilliant photos in the night too.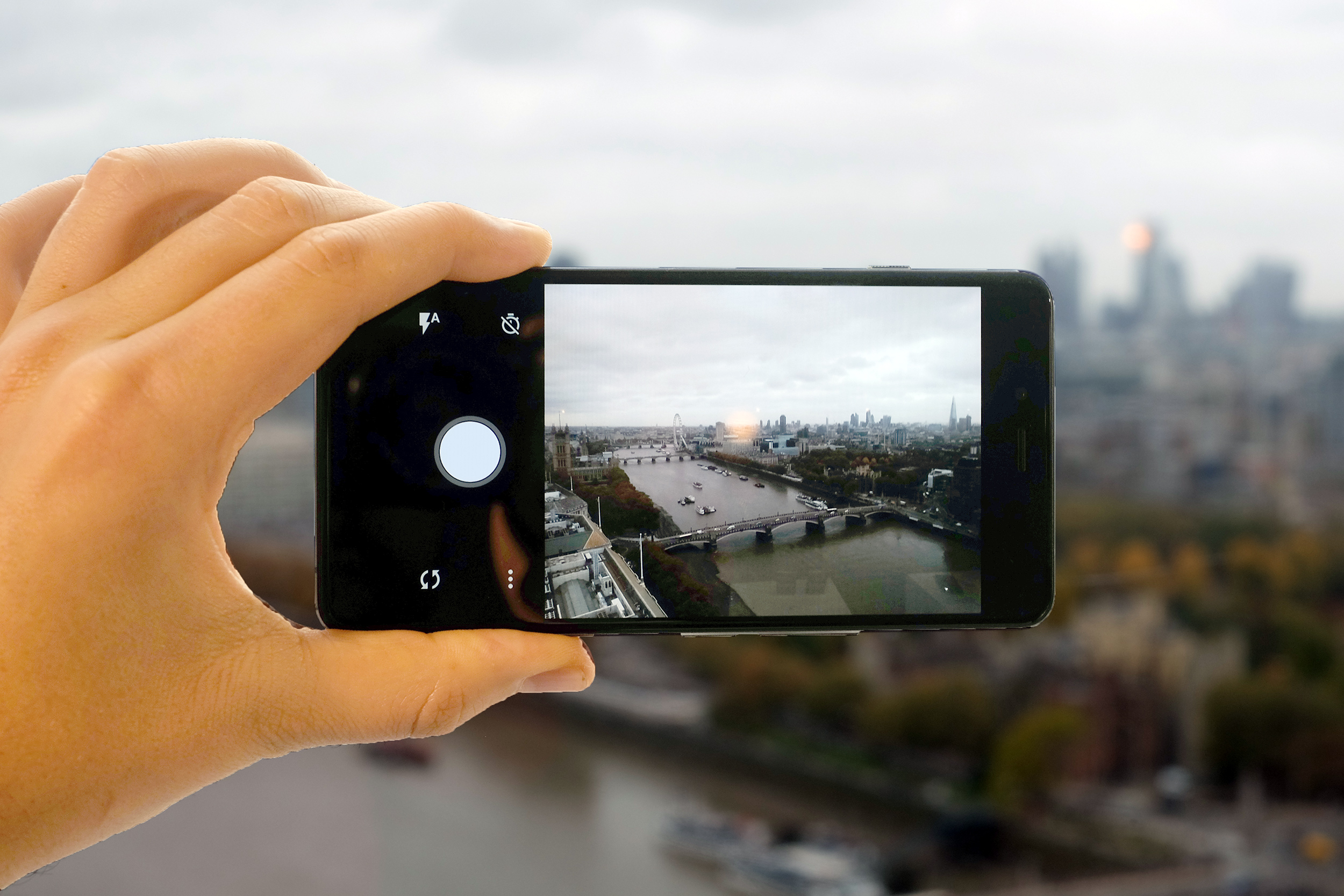 Shot with the OnePlus X. Pic: Arstechnica
Coming to the OnePlus X, it has a 13MP rear facing camera with f/2.2 aperture with ISOCELL technology for sharp images and true colours. On the front side of the device is an 8MP shooter with f/2.4 aperture that delivers great selfies. The camera is equipped with PDAF among several modes including Clear Image, Slow Motion, Time lapse, HDR, Beauty mode and further customisations using ISO, shutter speed and white balance.
Battery
Both the devices have a major difference in their battery's. The OnePlus X has a 2,525mAh and can be used throughout the day. On the other hand the Moto has a 3,630mAh battery with fast charging ability and also manages to survive more than a day with select settings.
Performance
By now, I would like to say that both the phones are on a head-to-head competition, one is winning on the camera and the other one is beating on the battery. Now, coming to the performance, let us see what these phones give us.
Moto X Play. Pic: Stuff.tv
The OnePlus X features a Qualcomm Snapdragon 801 with a lightening 2.3GHz processor. It has a 3GB RAM and inbuilt memory of 16GB. The mobile runs on Android 5.1 Lollipop based on Oxygen UI which offers a lot of customizability options.
The Moto X is powered by a 1.7GHz Qualcomm Snapdragon 615 octa-core CPU, Moto X Play gets Adreno 405 GPU for graphics, 2GB RAM and 16GB or 32GB expandable storage options. The handset runs on near-stock Android 5.1.1 OS and smart detection to activate features such as hands-free while driving and more.
Pricing and Availability
The OnePlus X comes in 2 versions, The Onyx (glass) variant costs Rs. 16,999 while the limited edition ceramic variant costs Rs. 22,999. Both models are available only via invites exclusively through Amazon.in. We suggest you not to spend your money on the limited edition ceramic version as there is no difference except for the finish.
Coming to the Moto X Play, the 16GB costs for Rs 18,499 and the 32GB costs Rs 19,999 on Flipkart
Verdict
Well there is not absolute winner of the two, but...
You would want to buy the Moto X Play if you want a sturdy phone with a good battery, you should go for the Moto X Play.
Whereas, like most others, if you want a stylish good looking phone with which you need some attention along with a better AMOLED display and processor you should go for the OnePlus X. Also, the OnePlus X is a little cheaper than the Moto X Play but is available invite only. If you need an invite, tell us in the comments below and we'll help you :-)